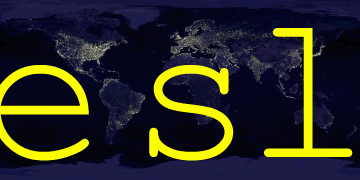 Joseph's ESL Links
On this page you'll find a useful list of websites related to learning English as a second language. Some of them were specially designed for language learners and others simply offer English content. I hope that you'll ...
Enjoy this page to the fullest and find it a useful supplement to your English classes.
Tell others about the page so that it can be of use to as many people as possible.
Continue to make use of these sites after you've completed all your required English classes.

Web Sites for Learners & Teachers of ESL
Activities for ESL Students

This site features more than 1,000 activities to help you study English. You will find interactive crossword puzzles and quizzes--some of them bilingual--on idioms, grammar, and vocabulary. Just find your level and get started !!

Interesting things for ESL students

Quizzes, word games, sentence puzzles, pages with sound, and various experimental offerings, such as, a sentence singer, travel survival exercises, concentration, and a drag & drop puzzle.

Listening

Listen to words in online dictionaries, hear stories, and go to listening labs where you can hear conversations before answering questions about them.

Vocabulary

All about words: usage, etymology, etc. Includes help in test preparation.

Dias' Keitai Links

The links on this page were designed to work well on a variety of cell phones. You'll find an English BBS, sites for vocabulary study, dictionaries, news, and even information on what's happening in Tokyo next Friday night. Try mailing the URL of this site to your cell phone's address.

Learning English In Japan

"Hey! I'm here in Japan. How do you expect me to learn English speaking and listening skills? Is just going to class enough?" Here are some suggestions.

Resources for Teachers

Resources for understanding Web content better

These sites provide information for amateur and professional translators and some of them can help you make 'quick and dirty' translations of English Web pages. Translation
This link will take you to useful reference sites: dictionaries, encyclopedias, almanacs, maps and more. Reference Sites How can you decide what's the truth, what's a lie, and what's nonsense on the Net? It's not an easy task, but these links will help you separate the Web's wheat from its chaff. Med
Publish
Search for It
Lists of controversial issues
Access news to research controversial issues
Search for discussion groups on topics of your choice using Usenet, Yahoo Groups, or Topica. If you can't find a group that matches your interests, you can start your own. Search for jobs of all sorts and learn how to write an effective resume/CV. Also find out about internships and other temporary jobs. Find all sorts of literature online (from poetry and fables to complete novels) and learn how to 'see' literature in new ways at these useful sites. Learn all there is to know about the craft of writing, from the basics to sophisticated formatting of bibliographies. Write? Right !!

Get advice on how to start a reference search, how to evaluate your search methods and the information they generates, and how to distinguish between primary vs. secondary sources.
Last updated on April 27, 2021



Webmaster: Joseph Dias